BACKGROUND
Challenging the current status quo in Belgium
In 2022, an extensive study was done on the status and potential of Impact Finance in Belgium. The total market size estimation for Impact Investing ranges from € 6 to 16 billion which represents 1 to 2.5% of Belgium's total AUM (€ 620 800bn) Impact Investing in Belgium could reach more than € 30 billion in the coming years.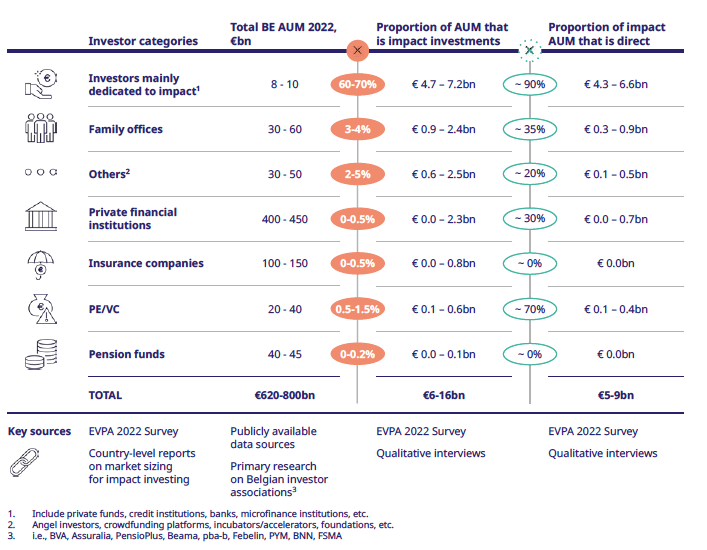 Uncovering ways to unlock the growth potential
Growth potential in Belgium: more than € 30bn in the next 3-5 years. In line with ambitions of other countries: UK: double 2020 figure by 2024. Overall CAGR over the last 3 years on a global level is 27% GIIN.
Major growth areas in Belgium
• Institutionals
(pension funds & insurance companies) & private financial institutions (banks asset managers): not yet active today in impact investing (focus mainly on ESG-related investments, incl art 8 & 9)
  o Pension funds in NL: 4.5%, pension funds in UK: 0.5% (only direct investments are taken into account)
  o Insurancecompaniesin neighbouring countries: 0.5% to 1% of their AUM
  o Pension funds and insurance companies are 3% of global AUM invested directly in impact (GIIN, 2020); in Belgiumthisis0%
• HNWI & Family offices: important growth potential due to high wealth and short decision-making process
  o Highest rates of growth potential lay with family offices, planning to increase its capital invested in impact by 14% (GIIN, 2020)
• Public investors: could play a key role by leading by example
  o Needspoliticalwillingnessand adoption of a long-term vision
Identifying 9 opportunities to unlock this growth potential in Belgium
1. Improve the awareness of the financial viability of impact investments to increase their attractiveness for (mainstream) investors
2. Shift the traditional investment culture to position impact investing as an essential innovation
3. Create vehicles to attract typical big-ticket investors to invest in smaller ticket impact investments
4. Boost the start-up culture in Belgium to help grow the country's entrepreneurial (impact) spirit
5. Advance business know-how of impact entrepreneurs to help them create viable impact ventures
6. Promote a common definition of impact investing and provide guidance on impact measurement to enable increased collaboration among impact investors
7. Bring together investors and investees and increase transparency on both sides, to help bridge the perceived mismatch between capital supply and demand
8. Empower foundations and knowledge networks to become true impact eco-system builders
9. Consider leveraging multiple areas of action on the regulatory side to support and grow the Belgian impact space
Bringing together key players in the Belgian Ecosystem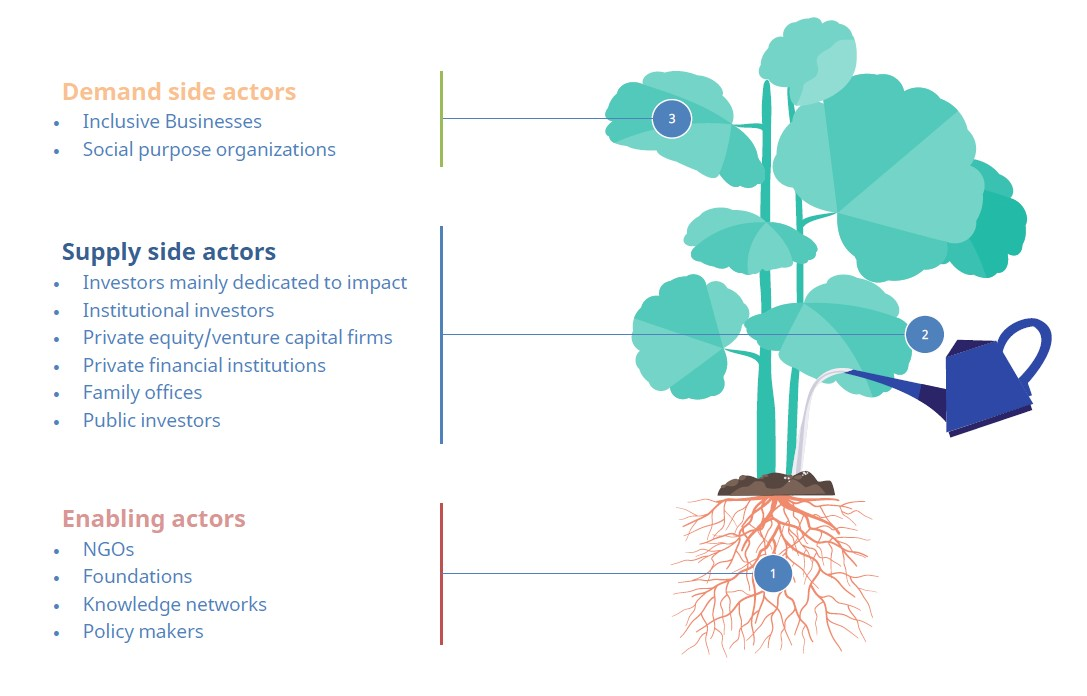 Second Belgian Impact Day

Registration website for Second Belgian Impact Day
What IF Belgium Coordination teamhello@impactfinance.be
What IF Belgium Coordination teamhello@impactfinance.behttps://www.if-belgium.be
2023-11-08
2023-11-08
OfflineEventAttendanceMode
EventScheduled
Second Belgian Impact DaySecond Belgian Impact Day0.00EUROnlineOnly2019-01-01T00:00:00Z
Maison de la PosteMaison de la PosteHavenlaan 86c 1000 Brussel Belgium