IFB presents 'ESG and Impact': How to navigate through these two approaches, their principles, standards, labels and tools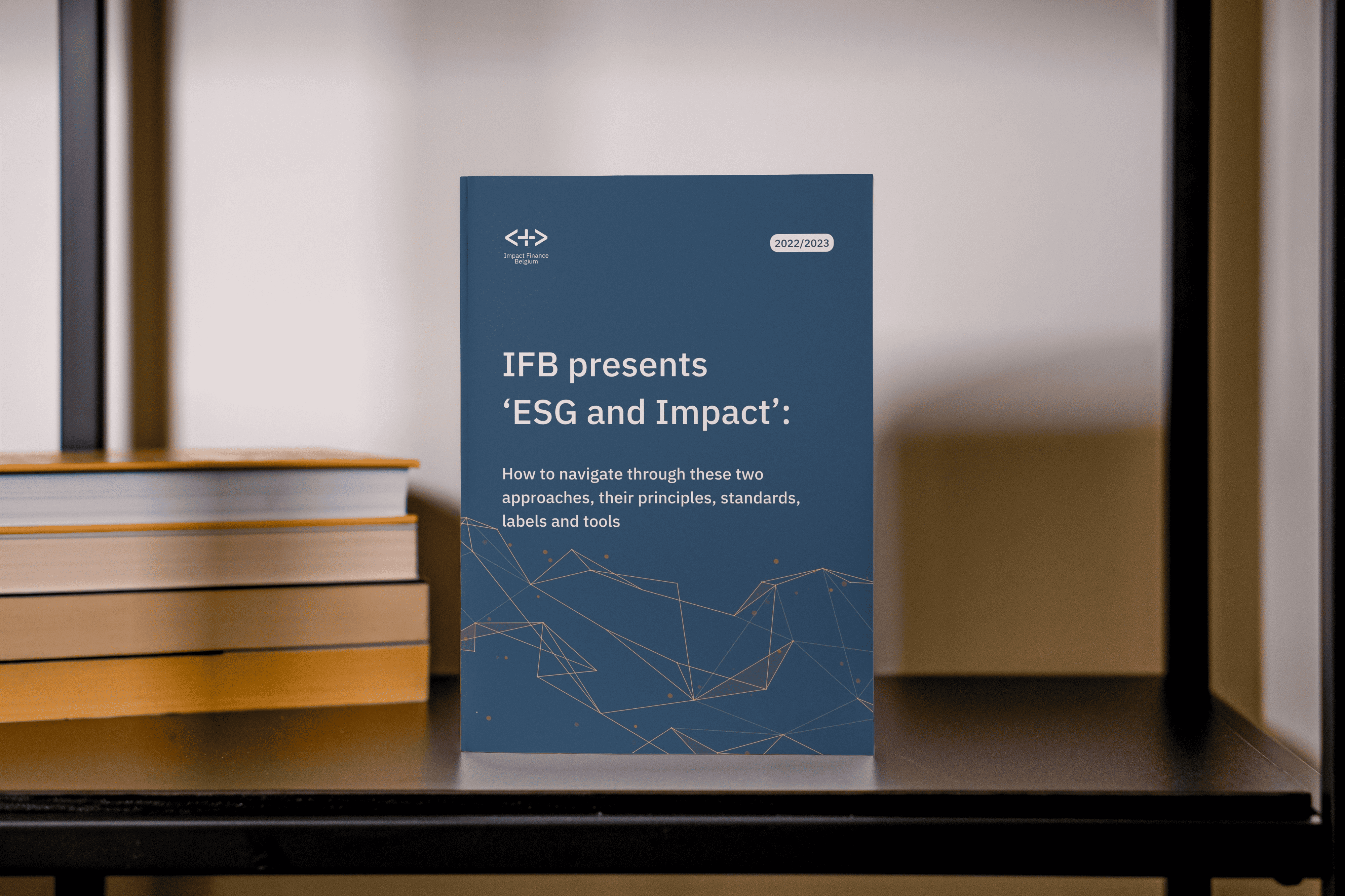 Executive Summary:
Impact investing is not a new concept as it traces its roots back to the early 1970s, but its prominence continues to rise. It represents an investment strategy that seeks to yield not only financial returns but also quantifiable, positive social or environmental benefits.
Amidst this surge of interest, questions naturally arise: What exactly constitutes impact? Can it be measured, and if so, how? These inquiries are actual within the discourse of the impact investing community. In the meantime, the concept of impact is evolving, with a plethora of definitions, frameworks and perspectives emerging. There is a growing call for transparent, comprehensive, and standardized sustainability metrics, demanded by stakeholders ranging from Financial Institutions and Regulatory Bodies to Consumers and Civil Society.
The link with the Environmental, Social and Governance (ESG) narrative is often made and adds to the confusion. Both ESG and Impact intend to contribute to a more sustainable society but place different emphases. ESG starts from the company's activities and looks at potential risks. Emphasis is also more on transition within companies and organisations. Impact, on the other hand, focuses specifically on contributing to solutions in the wider society. Transformation of existing practices is central to this. Both approaches complement each other and both are necessary for a more sustainable society.
The various definitions, frameworks, classifications linked to the concept of 'impact' focus on 1 or more aspects. For a better understanding, we bring them together in the framework below. For more information on the SFDR, scope 1-3, materiality, the ABC framework, the different forms of investments, ... we refer you to the IFB publication.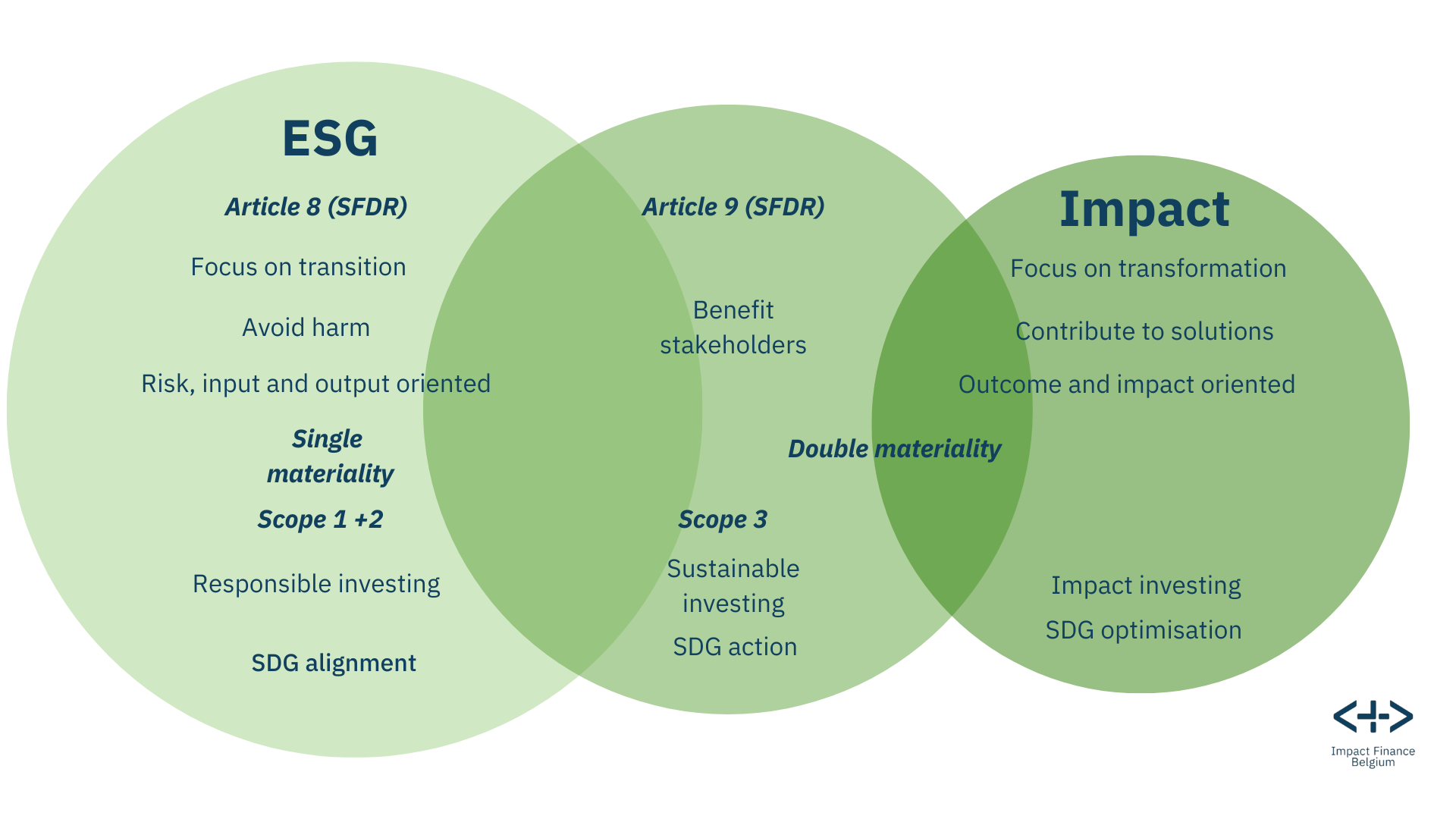 The aim of this publication is two-fold: firstly, to provide a navigational guide through the lexicon of impact investing for the curious, and secondly, to furnish advocates of particular approaches with a deeper understanding of the various facets of impact investments. Depending on your role as an actor, your perspective, your focus, certain principles, standards, tools, labels will be more of interest to you than others. To support you in making more focused decision in this, IFB developed the following decision tree which is described in more detail in the publication, as well as its various components.
The two important questions to ask yourself in this regard are:
Is my focus on transitioning within my own operations, or am I aiming to maximize the impact of my activities/organisation?
Are there specific topics that I like to address: single/double materiality; environment, social or both, …?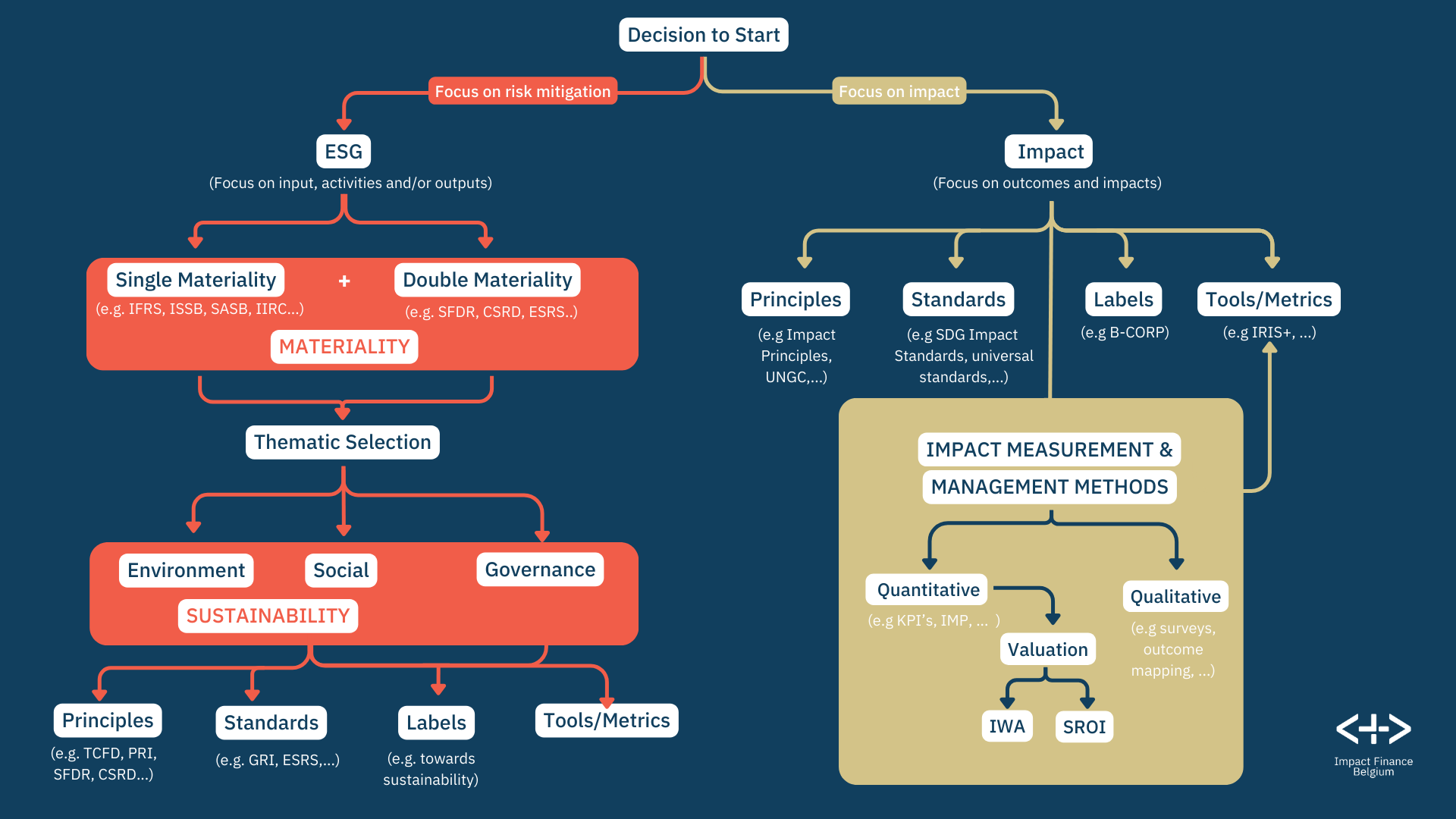 At the end, your starting point does not really matter, there are several options, ranging from the choice of principles (broad framework based on values), standards (more detailed guidance and often used as bar for best practices), tools (practical instruments and methods) and labels (particular standards to be recognised). Experience shows that perfection does not exist either; for all actors it is a learning process. IFB, as a member organisation, likes to facilitate this learning process in an interactive way between its members and beyond to make the process of Impact Measurement and Management accessible and fun for all.
Download the Executive Summary here. 
Second Belgian Impact Day

Registration website for Second Belgian Impact Day
What IF Belgium Coordination teamhello@impactfinance.be
What IF Belgium Coordination teamhello@impactfinance.behttps://www.if-belgium.be
2023-11-08
2023-11-08
OfflineEventAttendanceMode
EventScheduled
Second Belgian Impact DaySecond Belgian Impact Day0.00EUROnlineOnly2019-01-01T00:00:00Z
The SquareThe SquareMont des Arts 1000 Brussel Belgium